The Next Big Thing for the Food Industry Is Here
A Comprehensive Certification Benefiting Manufacturers and Consumers.
You may be surprised to know there are some organic foods with high sugar content. There are non-GMO products high in sodium; some gluten free products are highly processed and contain refined flour and artificial sweeteners. They're all properly certified and, while perceived as healthy, are not necessarily as healthful as they appear because these certifications do not go far enough. As good as these certifications are, Organic Certification, nonGMO verification and other certifications do not tell us if the foods and drinks are truly nutritious.
Nature's Healthiest® Certification does.
Nature's Healthiest® goes further than other certifications by evaluating each food against strict nutrition guidelines to ensure consumers' choices are truly nutritious ones (see chart, left). Started by a group of health and nutrition professionals looking to fill in a critical mi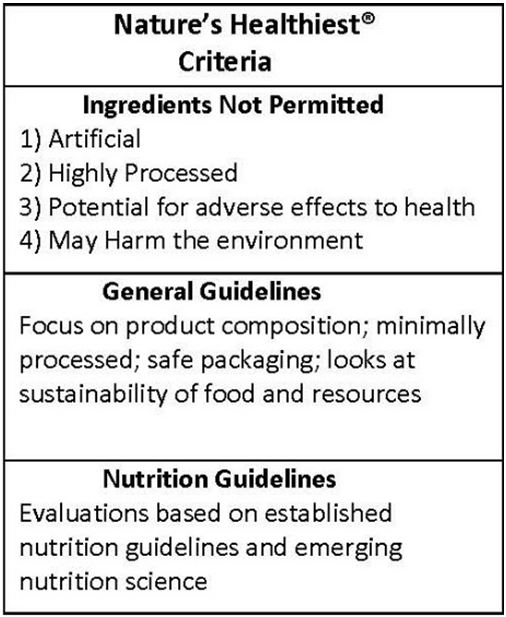 ssing piece, the Nature's Healthiest® team of Doctors, Nurses, Nutrition Specialists, Environmental Scientists, Personal Trainers and Certified Wellness Lifestyle Practitioners takes all of the attributes of many of the current food certifications and adds the component of nutrition. "The human body cannot make all the nutrients it needs," said Dr. Harry Lindman, a member of the certification board, "so nutrients we need must come from the diet. We felt the need to identify which foods are the most nutritious, natural and healthful."
With this additional knowledge, consumers can more easily and confidently make their dietary choices. They have scientific proof of the value of the product; they can trust in the reliability of the label with the Nature's Healthiest® stamp.
"Food and drink manufacturers with Nature's Healthiest® Certification have an edge in the highly competitive natural foods marketplace," said Nutritionist Patricia Murphy. "Consumers know products bearing the Nature's Healthiest® logo are nutritious. Their brand loyalty grows. The manufacturer's profile grows as holder of the highest nutritional certification." It is also a great opportunity for start-up companies and established manufacturers with plans to roll out new products to receive guidance on what the composition of their product should be. Then, the certification shows it meets the standard.
As an independent third-party certification, Nature's Healthiest® stands on its scientific findings alone. There are no outside influences. Nature's Healthiest® Certification is honest and can be trusted.