Dr. Harry Lindman
Dr. Lindman received his Osteopathic medical degree in 1993 from Philadelphia College of Osteopathic Medicine. He specialized in Family Medicine and received his board certification. He has been in private practice for over 20 years. Dr. Lindman is also involved in many other facets of medicine caring for patients with autism and mental retardation, occupational medicine, school physician, addiction medicine, and caring for patients in a nursing home. Seeing how Americans have become less healthy, he is looking for healthier alternatives and a better way for his patients to be able to evaluate foods and beverages to make healthy choices. He has teamed up with a panel of health specialists to create Nature's Healthiest® and to make a difference in his patient's lives.

Dr. Diana C. Galish-Frasier, DC, CCWP
Dr. Diana opened the doors of Niskayuna Life Chiropractic in 1987 with a great passion to teach people the importance of a properly functioning spine and nervous system in overall health and well-being, and to help them to "Get Healthy and Live Well" via improved spinal/neurological health and better lifestyle choices. Dr. Diana served for several years as an Executive Director, for the New York Chiropractic Council District 6, has extensive post-doctorate education and in her favorite fields – neurology, immunology, and nutrition, and through the International Chiropractors Association, acquired certification as a Certified Chiropractic Wellness Lifestyle Practitioner (CCWP). She currently serves as Vice Chair of the International Chiropractors Association's Council on Wellness Lifestyle Science.

Patricia Murphy, MS, CNS
Patricia received a Masters Degree in Human Nutrition from the University of Bridgeport and holds certification as a Certified Nutrition Specialist and is an elected as a member of the American College of Nutrition. She is Licensed Dietitian/Nutritionist in the state of Massachusetts where she currently works in an integrative health center in the Berkshires assisting others in their own wellness journeys. Through her private practice in nutrition and food industry consulting, she has over 30 years experience in food and beverage development, food labeling, nutrition fortification, organic certification and quality assurance. Patricia is honored to be part of the Nature's Healthiest® Certification project as is combines her experience in food and nutrition to help guide consumers towards a way to more easily identify healthy foods on the store shelf.

Anne Ashmead, LPN
Anne has been involved in health services for over 35 years in a variety of positions from reproductive and women's health, hospital nursing, geriatric nursing, hospice, and psychiatric crisis intervention. In her career she has grown to feel that the idea of wellness in an everyday setting is the most important part of health management and disease prevention and strives to pass on accurate nutritional and health information. She sees the next generation's well being as connected to eating and health on a local, regional and global scale. Anne feels that working on the Nature's Healthiest® program is where she can bring her medical, spiritual, and personal interests to bear into a culmination of everything she has done, learned, and found important.

Dr. Catherine Falk, DC, CCWP
Dr. Falk is a chiropractor at Niskayuna Life Chiropractic, where she educates patients about the importance of an optimal functioning nervous system, healthy diet, exercise, and how to avoid toxicity. She has a bachelor's degree in Medical Technology (ASCP certified) from SUNY Albany, a Doctor of Chiropractic degree from Palmer College of Chiropractic (1993), and she is a Certified Chiropractic Wellness Practitioner (2009) from the International Chiropractors Association. She also has taken numerous post-graduate courses in Chiropractic Biophysics, Pediatrics, Vaccination, Immunology, Applied Neurology, Nutrition and Chiropractic Philosophy. She was honored to join the board of Nature's Healthiest® Certification to work with other professionals passionate about health and wellbeing, as well as to help the public make healthy food choices in the confusing food market.

Martha Simone, CPT
After receiving her Personal Training Certification from the National Academy of Sports Medicine, Martha did an internship with the Corrective Holistic Exercise Kinesiology internship with the CHEK Institute in San Diego and later obtained Level 2 Certification as a Holistic Lifestyle. Martha has been involved in the fitness industry for over 20 years and has spent the past 15 years working as a personal trainer at Sunnyview Rehabilitation Hospital as well as working with clients in a private studio. She is excited to be part of an effort to put a certification on a product that contributes to the well-being of the individual and helps them make healthful choices. It is an honor to be able to work with such dedicated and passionate individuals on the Nature's Healthiest® Certification Board.

Claire Henderson Jain, MS
Claire holds a MS in Applied Environmental Science from RPI. She currently is working as a research scientist at GE Global Research and Development and is also a proud mother of an active infant son. She received her certification in Plant-Based Nutrition from the T. Colin Campbell Foundation and has a passion for nutrition. Claire is committed to researching the connections between good nutrition and the environment and currently serves on the board of the Albany Vegan Network. Claire is happy to be combining her interests in nutrition, public health, sustainability and food systems to contribute to the Nature's Healthiest® Certification. She appreciates the opportunity to work with other professionals in the field to work together on this influential project.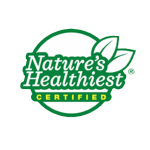 Independent. Honest. Trusted.
A Food Certification You Can Trust!